New jumbo HSS
Sizes up to 22" square. Walls up to 1" thick. Rolled right here in the U.S.A.
Coming September 2021.

Learn more.
Back to the Atlas Observer
Increasing A1085 Awareness at SEAoO Annual Conference, September 8-9 2016
Last week, Atlas Tube attended the Structural Engineers Association of Ohio (SEAoO) Annual Conference in Columbus, OH. With over 100 professional engineers and aspiring (student) engineers in attendance, the SEAoO Conference offered a variety of technical sessions for individuals to earn PDH credits (up to 15 total). Our favorite program from the two-day conference was Duane Miller of Lincoln Electric: "Welded Connections: The Good, The Bad and The Ugly". During Mr. Miller's talk, he showcased what a good weld is vs a bad weld with visual evidence. He also helped to "demystify" HSS connections by showing a variety of HSS welds in practical applications – attendees were genuinely interested in this topic!
At the Atlas Tube booth this year, engineers were excited to learn more about ASTM A1085 and pick up our pocket reference manual. Several engineers we chatted with were also interested in learning about JUMBO HSS. As we discussed this product, you could see them designing multiple applications utilizing these larger Hollow Structural Sections in their heads! Our Epox-Z-Kote line of HSS was also featured as a fellow exhibitor had Atlas Tube products (4×2 and 3×2) showcased at their booth!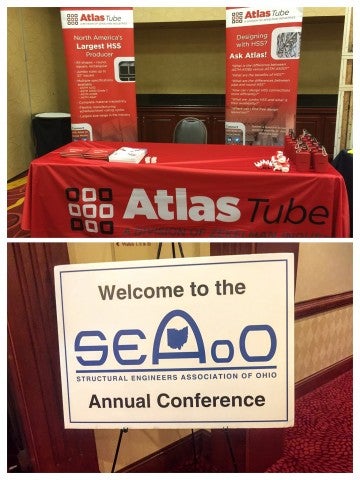 With strong attendance at our booth and positive remarks from the engineers, we are already looking forward to next year's conference. Thanks to all the members of the SEAoO for hosting a great conference!