New jumbo HSS
Sizes up to 22" square. Walls up to 1" thick. Rolled right here in the U.S.A.
Coming September 2021.

Learn more.
Back to the Atlas Observer
Recapping NASCC 2017
NASCC 2017 was held in the background of the famous San Antonio River Walk at the Henry B. Gonzalez Convention Center. With a record crowd of over 4,500 attendees, the show featured more than 200 exhibitors and 100 different educational seminar! The Steel Conference was an overwhelming success.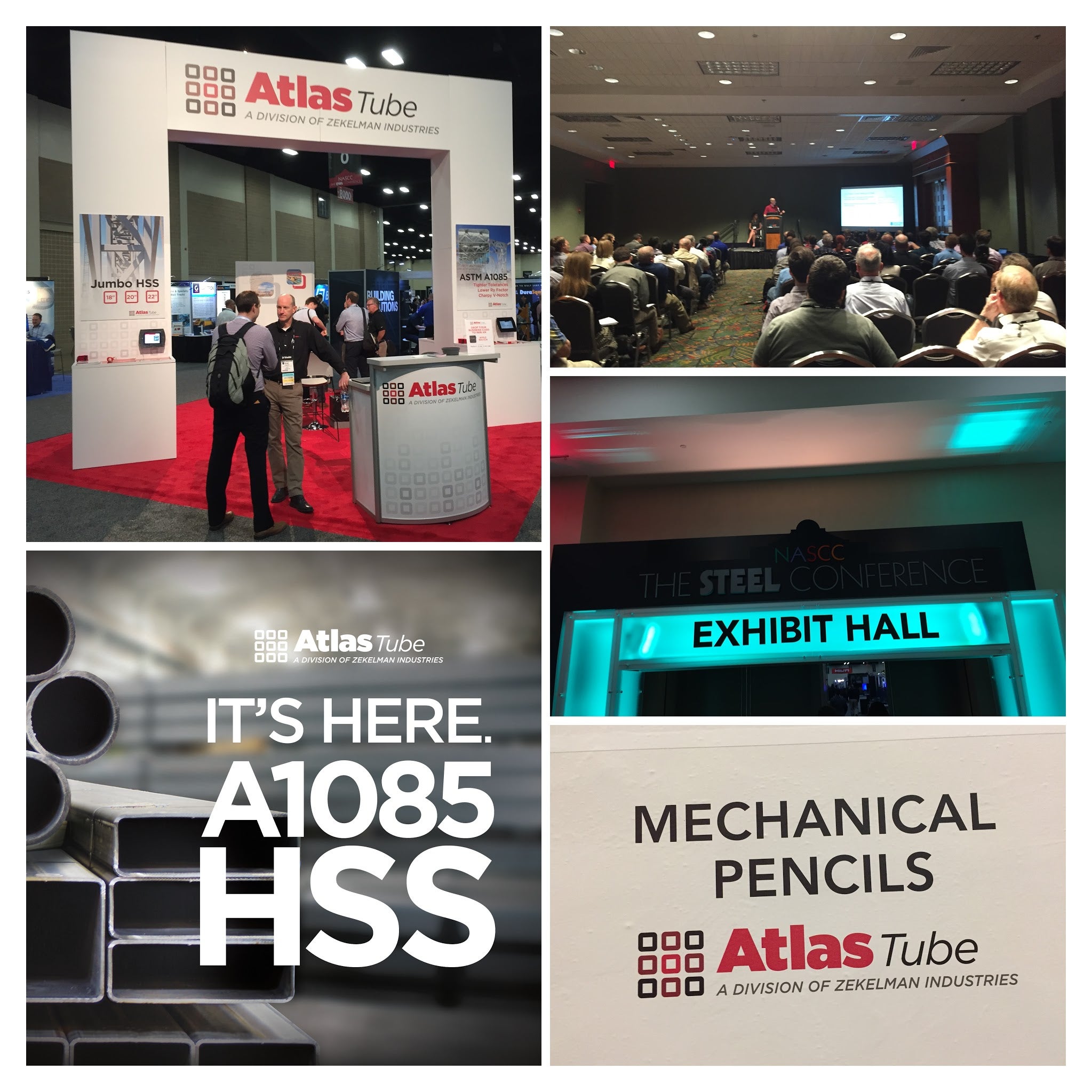 As visitors entered our booth, they were excited to learn that A1085 is now available at service centers in the western part of the United States (a full list of locations can be viewed here). Midwest engineers and fabricators are now clamoring for service centers in their area to come on board – stay tuned to our website as we roll out more locations.
During NASCC, I had the opportunity to present with Kim Olson from the Steel Tube Institute on How the 360-16 Chapter K Changes Affect HSS Design. The well attended session provided an overview of the updates and additional resources for engineers to deliver efficient HSS designs. Did you miss the presentation? No worries – I will be doing a webinar in conjunction with the Steel Tube Institute on the same topic. Sign up today so you don't miss it (the webinar is on April 20th). https://steeltubeinstitute.org/hss/product/april-2017-webinar/
Tales from the booth: One interesting conversation that I had during the show reflects how attitudes toward HSS can get stuck in the past. We featured in our booth several samples of various sizes of HSS that we produce. A gentleman was standing next to them and when I approached asking if he had any questions, he replied, while kicking the 12" square section, "I hate these things". A bit taken aback, I asked him to tell me why. It turns out several years ago, he had a project with larger sizes of HSS and they proved very difficult to source. I told him this was a bit surprising because these sizes were part of our regular rolling schedule and should be readily available either directly from us or from a service center customer of ours. I introduced him to our availability chart and how it could help a designer choose the best and most available sizes for their projects. I went on to further introduce several design aids we have on our website. After a lengthy discussion and an introduction to the tools that Atlas has developed, his attitude toward HSS had clearly changed and he said he would definitely consider using HSS on future projects.
If you have questions about the tools we offer, need help with designing with HSS or want to know how HSS can benefit your next project, please reach out to me at any time – bradlee.fletcher@atlastube.com