New jumbo HSS
Sizes up to 22" square. Walls up to 1" thick. Rolled right here in the U.S.A.
Coming September 2021.

Learn more.
Back to the Atlas Observer
10 Inspiring Buildings Designed With Steel HSS
"Form follows function – that has been misunderstood. Form and function should be one, joined in a spiritual union." – Frank Lloyd Wright
I may never know what an architect thinks of steel, but I would imagine that while I find beauty in an objects function, an architect finds beauty in an objects form. So, if beauty is in the eye of the beholder, or so the saying goes, then can I prove Mr. Wright, right? Can an object instrumental in functionality, like steel, join with creative formation, like architecture, to inspire structures of towering beauty?
In this post, I want to examine critical reviews from steel and architectural communities on some of my favorite towering beauties, which through the use of hollow structural sections, have visually impacted both worlds.
10) University of Michigan Law School, Robert B. Aikens Commons (Ann Arbor, Michigan)
"Hartman Cox-Architects envisioned a grand sky-lit atrium and selected steel to create a stunning meeting space that complements and accentuates the surrounding historic structures." – American Institute of Steel Construction
"The building defines how modernity can coexist with tradition." – Asma Momin, P.E., a structural engineer with PageSoutherlandPage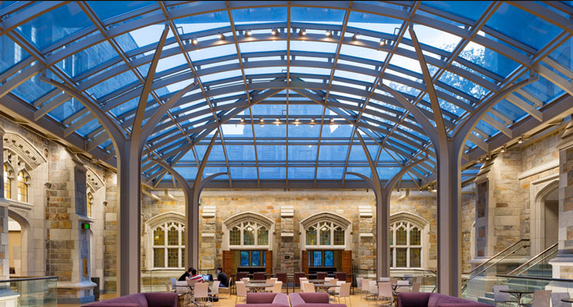 9) Apollo/Saturn V Visitors Center, Kennedy Space Center (Merritt Island, Florida)
"Our challenge was the extraordinary height and breadth of the structure needed to house the huge rocket and withstand the hurricane-force winds that periodically strike Cape Canaveral. We wanted to design a building that would historically display the rocket, lunar landers and other artifacts. We chose a concept based on the vertical assembly building at the Cape—the warehouse-type structure where rockets were put together and made ready for transport to the launching pad." – Gerald Koi, Managing Principal for Morris Architects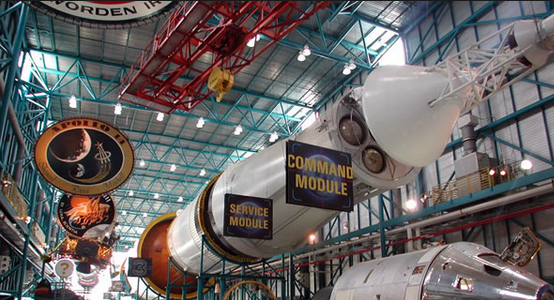 8) NASCAR Hall of Fame (Charlotte, North Carolina)
"Totally bewitching, it grabs hold of your senses long before you find the words to articulate what is has accomplished." – Paul Dannels, architect and structural engineer
"The results of our explorations of speed and spectacle evolved into an architectural element we call the Ribbon, which envelops the varied program elements in a form that speaks to the imagery and spirit of NASCAR." – Pei, Cobb, Freed & Partners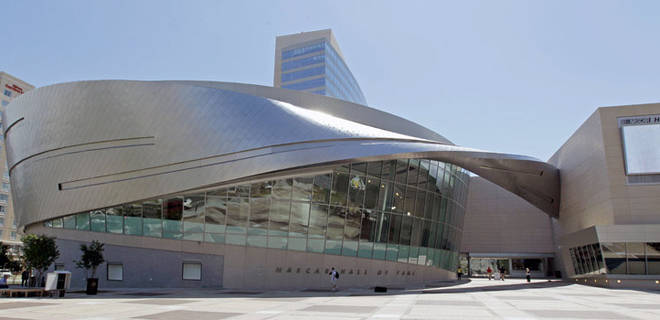 7) Kimmel Center for the Performing Arts (Philadelphia, PA)
"Such a perfectly realized building that you may actually find yourself hoping that a flaw will turn up. The only thing it can be faulted for is a pursuit of excellence so unyielding that it seems to not quite deserve a place in our world of scintillating compromise." – Herbert Muchamp, architecture critic for The New York Times
 "Notable strength of a project of this scale. Clever use of simple geometry and materials to minimize the appearance of the steel structure." – American Institute of Steel Construction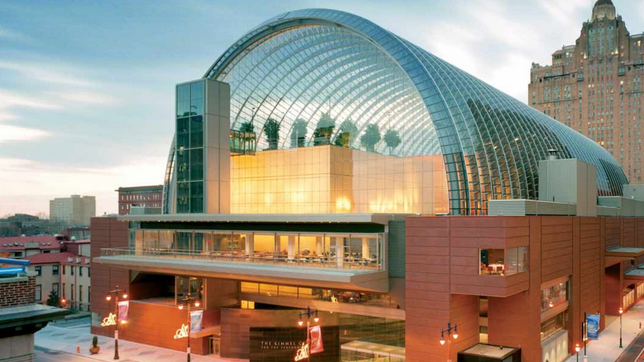 6) Iowa High Trestle Bridge (Woodward, Iowa and Madrid, Iowa)
"The changing geometry of the steel cribbing radiates around you. The viewer moves along the path as though moving through history, through the tunnel of a mine. Blue LED fixtures highlight the inside faces of each crib." – RDG Planning and Design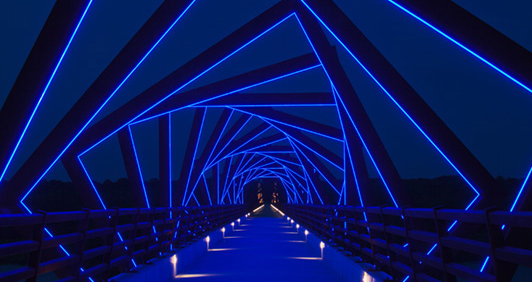 5) Jay Pritzker Pavilion, Millennium Park (Chicago, Illinois)
"Designing and fabricating the ribbons were a marriage of illusion and practicality. Frank Gehry wanted to see an honest structure." – John Zils, architect of Skidmore, Owings & Merrill LLP.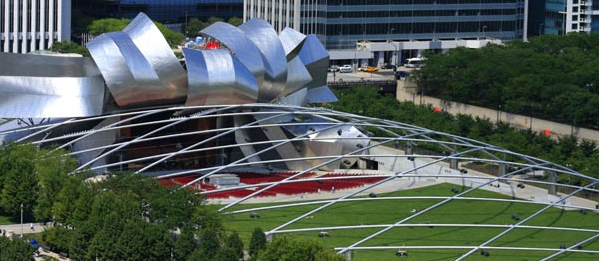 4) Tempe Town Lake Pedestrian Bridge (Tempe, Arizona)
"The inspiration for the design came from the natural and built environments of Tempe Town Lake and Rio Salado area. The graceful curves of the arches recall the undulating Salt River and the crossing of the arches and suspension cables create geometric shapes echoing the architectural patterns found in the Tempe Center for the Arts." – American Institute of Steel Construction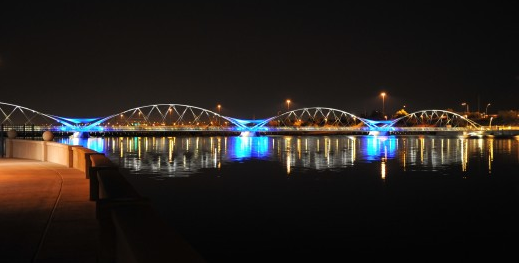 3) Rock and Roll Hall of Fame (Cleveland, Ohio)
"It was my intention to echo the energy of rock and roll. I have consciously used an architectural vocabulary that is bold and new, and I hope the building will become a dramatic landmark for the city of Cleveland for the fan of rock and roll around the world." – M. Pei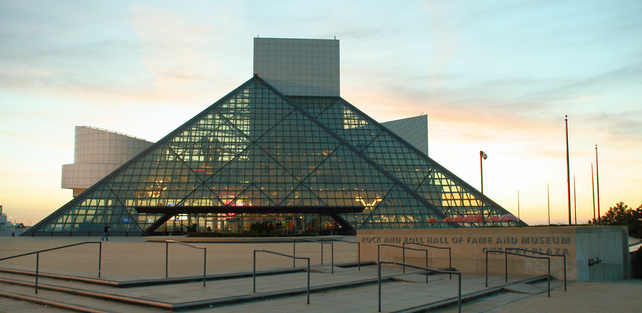 2) Olympic Orbit (London, England)
"The sculpture is the creative representation of the Olympics and the physical and emotional efforts of the competitors. Like the Games, the looping structure has a beginning and an end, but throughout it contains continuous challenges and drives for improvement."  – ArcelorMittal
1) John Hancock Building/Sears Tower (Chicago, Illinois)
It's a tie! Of course, my favorite HSS structure(s) has to come from Chicago—it's the birthplace of high-tech architecture.   
"To my mind, American architecture, born in the Middle West, is an architecture born of people who know how to make things."-  Architect Bruce Graham
"The developers of the John Hancock Building insisted on producing a tall building with residences above, offices and commercial uses below. The search for a new kind of structure which would accommodate multiple uses and also express the scale and grandeur of a one-hundred-story tower, lead Dr. Kahn and me to the diagonal tube.
It was as essential to us to expose the structure of this mammoth as it is to perceive the structure of the Eiffel Tower, for Chicago, honesty of structure has become a tradition." –  Architect Bruce Graham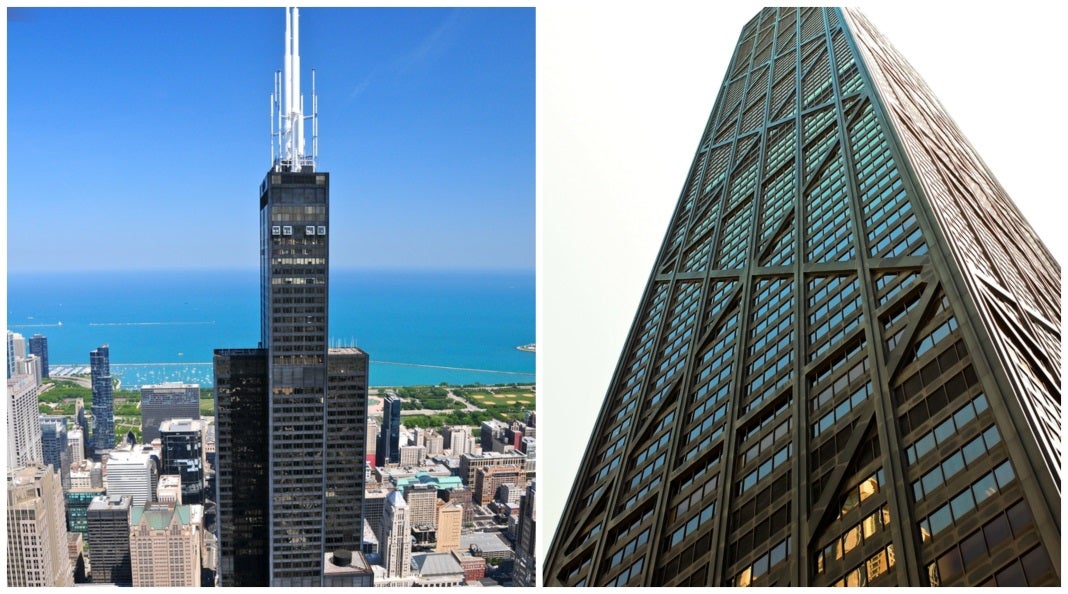 What are some of your favorite steel structures? Are they built using hollow structural sections? Leave your answers in the comments section below!