New jumbo HSS
Sizes up to 22" square. Walls up to 1" thick. Rolled right here in the U.S.A.
Coming September 2021.

Learn more.
Back to the Atlas Observer
Engaging the Industry with Digital Solutions
Engineers, fabricators and contractors are no strangers to filling in the gaps. Professionals in our industry use their knowledge and ingenuity on a daily basis to develop solutions for technical problems. However, sometimes filling the figurative gaps is where we lack. Topics missing established thought leaders and widespread education create huge holes for our industry, as professionals are unable to learn about products or innovations – let alone use them – without the necessary educational resources. Hollow structural sections (HSS) are the perfect example of such a topic with an obvious absence of credible, useful information for engineers – so Atlas Tube sought to find the solution.
Working with HSS can be challenging for even the most experienced professionals, as a recent market research study discovered. Although the HSS product holds a number of advantages, the vast majority of engineers, fabricators, designers and contractors surveyed were unaware of these benefits. We recognized the lack of HSS knowledge and decided to further educate the industry about the product. As North America's leading producer of HSS with an on-staff structural engineer who participates on both Steel Tube Institute's and AISC's HSS committees respectively, we had the knowledge available to help bridge the gap.
Creating a social media platform was the first step in engaging the industry on HSS topics. Although social media sites such as Twitter were heavily populated with engineers, contractors and fabricators, the vast majority of steel tubular product manufacturers did not have an active presence. Atlas saw this need for thought leadership on HSS, so in April 2012, Atlas created a Twitter account and began posting relevant industry news and HSS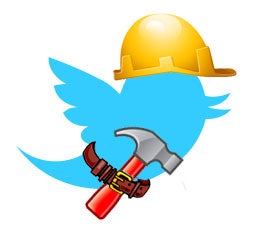 product information. @AtlasTube engaged its followers by starting a conversation about HSS and quickly established itself as a trustworthy and educational HSS resource.
To support @AtlasTube's success and enhance our thought leadership, we created our blog. The Atlas Observer provides valuable information and advice on a wide range of topics, such as industry news, product trends and analysis, case studies, designing with and installing HSS and more. The Atlas Observer is a strong resource and has been well-received by not only professionals, but social media influencers as well. Our blog regularly features posts written by Atlas experts with decades of real-world experience working with the design and installation of steel tubing and is renowned as a useful tool and resource for HSS information.
The next step was to directly engage structural engineering professionals about HSS through creating a series of educational videos. "Designing with HSS," stars Brad Fletcher, SE and senior sales engineer at Atlas Tube. The videos educate the industry on how HSS is produced and discusses its remarkable design potential. The "Designing with HSS" series has covered a wide range of HSS topics including uses and applications, connections, product availability, general properties – with more topics are slated to be filmed later this year.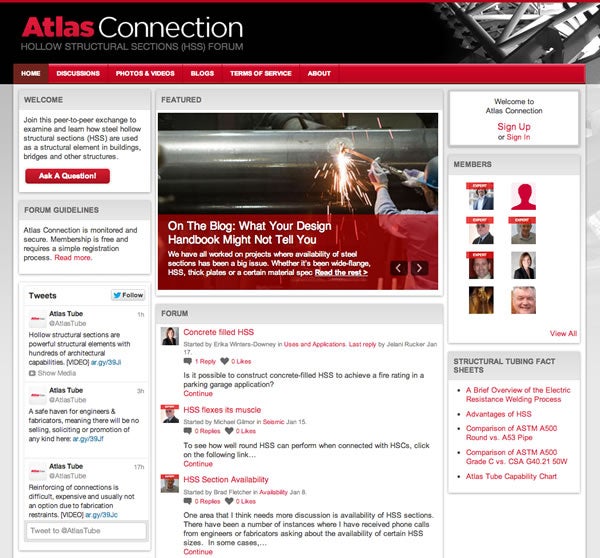 In January of this year, Atlas took engaging with HSS designers and engineers to the next level by creating an online, peer-to-peer community, Atlas Connection. Atlas Connection is a free online forum, and is the first of its kind designed specifically for professionals who work with HSS. This forum provides helpful information and support for professionals involved in the design and specification of HSS. By joining the forum, steel fabricators and structural engineers can find the answers they need for specific questions, as well as participate in the exchange of relevant product information, customer support and supplier information with their peers. Recognized industry experts including Dr. Jeffrey Packer of the University of Toronto, Sam Rubenzer of FORSE Consulting, and Atlas' own Brad Fletcher are available to answer questions and share their expertise.
Through Twitter, blogging, educational videos and our forum, we've established a system of resources on the topic of HSS to help educate and inform engineers, filling the knowledge hole and bridging the gap. Stay tuned to all of our channels for the latest HSS news.